This post brought to you by Walgreens. All opinions are 100% mine.
If ever I have been super excited to share my opinions on a product, THIS is it. When I was asked to discuss Walgreens Brand & Health Wellness Products, there was no question in my mind that I am well- versed on the subject. I am a die-hard Walgreens fan. Everything that I purchase from Walgreens is their brand name. I have yet to be disappointed. Why wouldn't I? 
All products are recommended by  pharmacist.
All products contain most if not all of the same ingredients as the national brand.
All products carry a money-back guarantee.
But, I can't talk about ALL the products we have used over the years - I have to pick only one. Just in the last week I had to go to Walgreens to pick up something for my son who was complaining of an ear ache. I knew from past experience that if an ache is caught early, it won't develop into a full-blown ear infection with the need for antibiotics. 
Inside the store, I had a choice of the name brand or Walgreens Brand Health & Wellness Product. On the day of purchase, the prices were the same. As always, I compared the ingredient list and container size. Even with all factors being equal, I chose: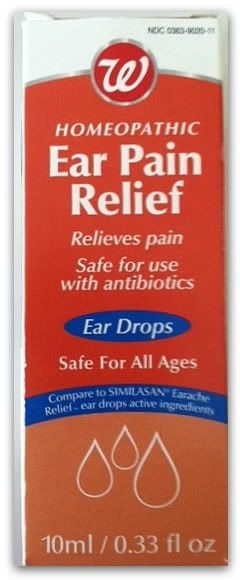 I am also happy to report that he is ear-pain free. These drops worked to ease the pain while his immune system took care of the rest. 
You don't have to take my word for it. Visit http://www.walgreens.com/walgreensbrand to learn more about Walgreens Brand Health & Wellness Products for yourself. 
And while we are on the subject of Walgreens, I just happen to know that several bloggers are 
GIVING AWAY WALGREENS GIFT CARDS.
Hurry! Run! Grab one for yourself!  http://socialspark.com/WalgreensBrandSweeps
How much better can it get? 
It's your turn to talk-- what are your Walgreens must-have products?