I won't say I was desperate for a post this evening, nor would I say I have been afflicted with "writer's block," but there is the remote possibility that I was searching for divine inspiration from somewhere. For anything interesting and preferably humorous this evening.
'Cause, let me tell you, nothing blog-worthy happened today. Unless you think buying a weedwacker at Home Depot is funny. Plus I had a coupon!
As I am trying to get caught up with
new followers
::waves to the ladies in the front row:: I came across this gem: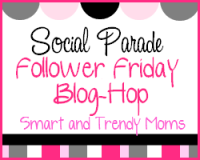 ::Angels sing::
So, as far as this parade goes:
A)Welcome new guests! Please, feel free to help your self to a cold beverage.
B) For those of you that know me, aren't you glad I am not whining about writing?
C)Let's introduce ourselves and make our way through the crowd.
I'll start:
I have been married to eleven years to Big Daddy (or BD). He is absolutely my other half.
We have three kids; Jessica (17), Nicholas (11) , and Darrin (10).
I am half way through getting my Elementary Education degree (Dream number 1)
I am writing a book among other small writing projects. (Dream number 2)
We have two dogs; Brownie and Charlie, and a cat; Monroe.
I am pretty sure the punctuation in the previous sentence is wrong.
Big Daddy calls me "Grammar Police."
Last summer, after a post involving some gross grammar error I spotted around town, someone pointed out that "grammar" was misspelled on my sidebar.
I am OCD about ...a lot of things. One thing is numbers. I like things even.
My husband says that makes me odd.
I am a voracious reader. For example, I have read two books in the last 36 hours.
One was The Adventures of Super Diaper Baby (recommended by both my boys)
The other was Things Change by Patrick Jones.
If you have teenagers, encourage them to read this book. And read it yourselves. It was eye-opening to say the least.
I will update my 2010 reading sidebar soon. I am reading faster than I can get them posted.
I tend to procrastinate. (See above)
The rest, I guess as they say, is history. Or the future. Depends on what I am posting about. I love to meet new people, and I can't wait to see what you have to say.
Again, thank you for stopping by my little corner of the world. Hope to see you again soon!